NSF EPSCOR TRACK 1 CEMOS ACKNOWLEDGEMENT STATEMENT
All research products, including papers, presentations, and other intellectual materials produced under the NSF EPSCoR Track 1 CEMOs grant, must include this statement:
"This material is based on work supported by the National Science Foundation under Grant No. 1757220."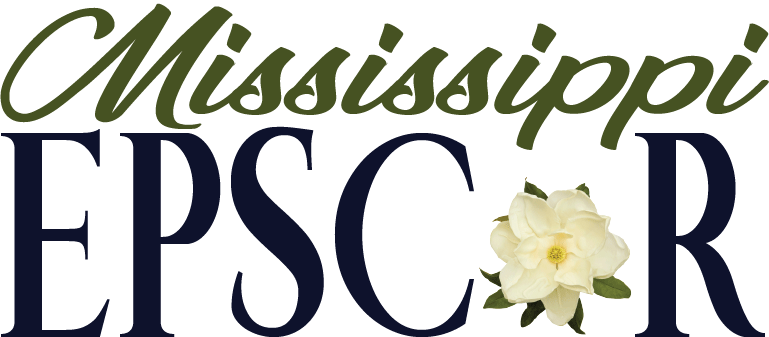 RECIPROCAL ACCESS TO SHARED RESOURCES
In 2019, the Mississippi Research Consortium signed a Memorandum of Understanding that would provide for reciprocal access to shared resources at all four of the state's research institutions. The list of available shared resources includes those acquired through the MS EPSCoR program. Below is a list of the resources available under this agreement at each of the institutions. To take advantage of any of these resources, please contact the Institution's Key Representative for Shared Resources, which is also listed below.
INSTITUTION'S KEY REPRESENTATIVES FOR SHARED RESOURCES
Jackson State University
Glake Hill
College of Science, Engineering and Technology
glakeh@icnanotox.org
601.979.1699
Mississippi State University
Katie Echols
Office of Research and Economic Development
katie@research.msstate.edu
662.325.3570
University of Mississippi
Jason Hale
Office of Research and Sponsored Programs
jghale@olemiss.edu
662.259.0544
University of Southern Mississippi
Sarah Morgan
School of Polymer Science and Engineering
Sarah.morgan@usm.edu
601.266.4886
SHARED RESOURCES FOR EACH UNIVERSITY
Jackson State University
• Spectrofluorometer
• Agilent Cary 60 Spectrophotometer
• Super Gamut NIR spectrometer
• Wasatch Raman spectrograph
• Olympus U-RFL-T Fluoresent Microscope
• Perkin Elm FTIR Spectrum2 Spectrometer
• Solar cell J-V curve measurement system
• Solar cell Incident Photon to Current Efficiency (IPCE) measurement system
• Spraybase Electrospinning Equipment
• Keithley 2600 Series Source Meter
• Inductively coupled plasma optical emission spectrometry (ICP-OES) (Shimadzu, ICPE 9000)
• Gas chromatography-mass spectrometry (GC/MS) (Agilent Technologies, 7890A/5975C)
• Dispersive X-ray spectroscopy (EDX) (Shimadzu, DX-720)
• MTS Nanoindenter
• Nano universal testing machine
Mississippi State University
I2AT Resources
• Axiovert 200 M Inverted Research Microscope
• Caliber AFM
• Dimension Icon AFM with ScanAsyst
• BioScope Catalyst AFM with ScanAsyst
• JEOL 6500F Field Emission SEM
• ZEISS EVO-50 Variable Pressure SEM
• HITACHI TM-1000 Table-Top SEM
• Transmission Electron Microscopes
• X-Ray Machine
• Rigaku Ultima III X-ray Diffraction System
• Rigaku SmartLab X-ray Diffraction System
• 3T MRI
• LightSpeed VCT 64 Slice CT Scanner
• 4D Ultrasound
• Linear Accelerator
• Fluoroscope
• Polaron E3000 critical point dryer
• Polaron E5100 sputter coater
• EMS 150T ES – A high-resolution sputter coater and high vacuum carbon evaporator
• Reichert-Jung Ultracut E ultramicrotomes (2)
• Fischion
• Ion Mill
• Dimpler Grinder
• South Bay Technology
• Diamond Wheel Saw
• Rotary Die Cutter
• Disc punch
• Plasma cleaner
• Epson 4990 Flatbed photo scanner
• Light microscopes
• Zeiss research microscope
• MiniCL
University of Mississippi
• Helios Fire: Ultrafast UV-Vis-NIR320-2400
• Helios IR: Ultrafast IR2000-13000
• Laser for Helios Fire Instruments
University of Southern Mississippi
• Near IR Fluorescence Microscope and Camera
• Photodiode Characterization
• Probe Station
• Superconducting Quantum Interference Device Magnetometer